To facilitate and educate producers in managing risk by providing the inside track and access to global markets, with market intelligence, value-added contracts, and pricing tools.
To meet the growing challenges of today's global markets, our UGC Profit Partner® program was developed by our Senior Central Hedge Desk Manager to help our producers and suppliers manage risks — today and in the future — for the success of all.
Our UGC Profit Partner program provides:
In-person and online marketing education
Tools for producers to use
Twice-daily updates on grain markets
Weather trends that affect risk
Updates on other developments that influence global commodity prices
The opportunity to grow relationships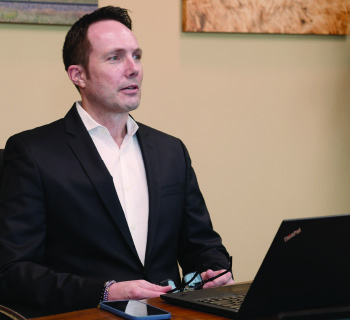 Rob Froom, Senior Central Hedge Desk Manager at United Grain Corporation, manages the UGC Profit Partner® program. Rob has more than 20 years of commodity trading experience, in Asia and the United States.
WHAT PRODUCERS SAY
During times of extreme volatility in commodity markets, UGC provides us the tools and expertise to make the best marketing decisions."
The Market Insight you provide our operation is extremely valuable."
We really like the experience and integrity of working with United Grain"
The UGC Profit Partner® Team
Our Marketing Partner team is the backbone of the program, with team members on the front lines. Backed by continually updated information and market intelligence, our Marketing Partners deliver high quality services to our producers.
Marketing Partners visit producers, listen to their concerns, and assist them with marketing strategies that reduce risk and stress while enhancing their business success.
Monte Fauque
Manager of Producer Programs
Conrad, MT
Leroy Loomis
Marketing Partner
Ontario, OR
Dallas Reich
Marketing Partner
Pendleton, OR
Brandon Quick
Marketing Partner
Pompey's Pillar, MT
Tyler Krause
Marketing Partner
Conrad, MT
George Killham
Marketing Partner
Moccasin, MT
Ryan Nendick
Marketing Partner
Bucyrus, ND
WANT TO WORK WITH US OR LEARN MORE?
"*" indicates required fields