The largest grain export facility on the West Coast of the United States
Our Vancouver Export Terminal, on the Columbia River in Washington State, exports up to 6 million metric tons of grains and oilseeds per year.
Barges and unit trains transport products safely and efficiently from our integrated Country Terminal Operations to the Vancouver Export Terminal. Grain is then blended, cleaned, weighed, and inspected to ensure that it meets United States certification standards, and any additional specifications of different countries and individual customers. Inspections are provided by the Washington State Department of Agriculture, under the supervision of the Federal Grain Inspection Service of the United States Department of Agriculture.
Each year, we load up to 120 ocean-going vessels that transport our products to our global customers.
We continually upgrade the terminal infrastructure and use innovative technology to make the processes of offloading, warehousing, quality verification, and loading more efficient.
Our Vancouver Export Terminal enables us to be the premier exporter of high-quality grain and oilseeds from the Pacific Northwest and NORTHERN Plains, to feed the world safely.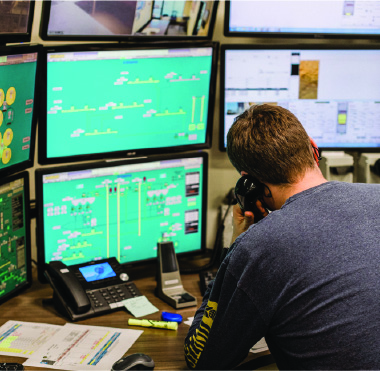 Our terminal operates 24 hours a day. One recent infrastructure upgrade included special lighting in the terminal control room that helps employees to maintain healthy sleep cycles, even when working night shifts, thereby increasing safety and effectiveness.